Love Call Vision

Heart Warming Industry, Heart Warming World
As an energy provider to people, KOCOAL has the heart-warming vision to provide sustainable hopes for people, business and community.
Love call Mission

Sustainable hopes!
KOCOAL will be the corporation giving sustainable hopes to community by committing itself to improving business management and strategies focusing on social responsibilities.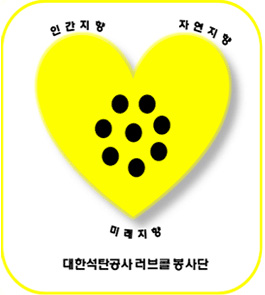 Meaning

As a company placed in the center of the energy industry in Korea, KOCOAL ultimately pursues the VISION of "Heart warming company, Heart warming world" through the SLOGON "Human-Oriented, Nature-Oriented, Future-Oriented."
Meaning of the Emblem

The yellow heart symbolizes warm energy and displays the strong will to spread the warmth. The Heart shows the warm-heart of Love Call Volunteers.
The Black circle in the center illustrates the briquet closely related to the KOCOAL..
Slogan "Human-Oriented, Nature-Oriented, Future-Oriented" expresses the essential value of the Love Call Volunteers.